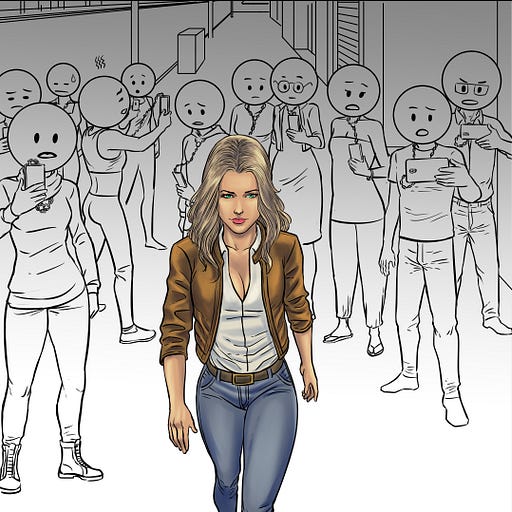 Apr 27 • 1HR 16M
Episode 1 - Shaun Gold, YouTopian Journey
I'm excited to have my first guest Shaun Gold, an Amazon best-selling author, speaker, advisor, a lifelong entrepreneur, and fellow Substacker.
Philosophical Ruminations
Read the intro here:
That is Shaun Gold, a fellow Substack writer who authors Youtopian Journey a weekly newsletter that serves to promote self-help, mental health, and self-improvement in the form of a graphic novel. Topics he's written about include advice on knowing one's purpose, embracing our failures, and pushing past our inner doubts. When you peruse through his publication, you'll run into what appears to be a pre-apocalyptic scene, typically featuring a woman, the Dreamer,  often times surrounded by grayscale imagery of people seen chained to their smart phones, slaves to their need for conformity. The Dreamer can be seen running at times, often desperate to get away from them, those who conform, seeking to live a unique life, not that of mediocrity. The struggles of the daily grind that many of us experience– from either the pressures of a 9-5 or the superficial whims of society --- are  seen as barriers we can all overcome – and outside of the smooth, immaculate artwork, done by Argentina-based illustrator Fernando Melek, are the words that Shaun Gold uses to lift up his readers.  
Reading it long enough, didn't offer me mental health advice so much as it encourages – almost demands – investment in improving mental strength. In almost every edition, there is a quote or two, if not more, that precedes Shaun's own take on conquering our demons. His language is filled with energy, drive, confidence, and eagerness to convince others that with the right mindset, anyone can achieve.
In preparation for this first podcast series, I reached out to many in my network and other Substack writers. The initial goal for this podcast was to collect enough people to interview and have conversations about who we are, how we find meaning – whether through spirituality, philosophy, science, or otherwise.  So you can imagine my elation when Shaun Gold agreed to be interviewed for the first episode of She does Profess.
In listening to and reading other interviews he's been in, I found that when talking, Shaun highly outperforms his writing energy. A voracious reader with a photographic memory, Shaun  doesn't limit his reservoir of memorized quotes to his written work – he uses them even in conversation, pulling them out at the most appropriate moment within just the right context. But I cared deeply to get as many of Shaun's own words as possible, so before we got started, I presented a challenge to him for our podcast – No quoting others. You'll have to listen to the whole episode to see if he could do it.
You're listening to She does profess, and I'm excited to have my first guess Shaun Gold, an Amazon best-selling author, speaker, advisor, a lifelong entrepreneur.   This polymathic super-connector has a network of thousands of people – and if that's not enough, he was also on Jeopardy!
Thank you Shaun for coming on board! Look forward to having you as a guest again.
Shaun Gold is the true definition of a polymath. He is a serial entrepreneur, best-selling author, guest speaker, advisor, super-connector, Jeopardy player (where he high-fived Alex Trebek on air), screenwriter and former nightlife ninja. He is the creator of YouTopian Journey which provides weekly wisdom and motivation to readers who want to become mentally stronger and make their dreams a reality utilizing custom drawn art. YouTopian Journey can be found on Substack.
Don't forget to check out and even subscribe to his newsletter: